Special Offer – Fix-Desks from 200 EUR*
It's summer, and it's getting so hot that you can't work from your apartment? Let's try to change that! Not only is it quite cool inside our coworking space even without air conditioning (it's an old building so it's always cool here), but we also have a Special Summer Offer for you! (The special offer is valid until 21.09.2023)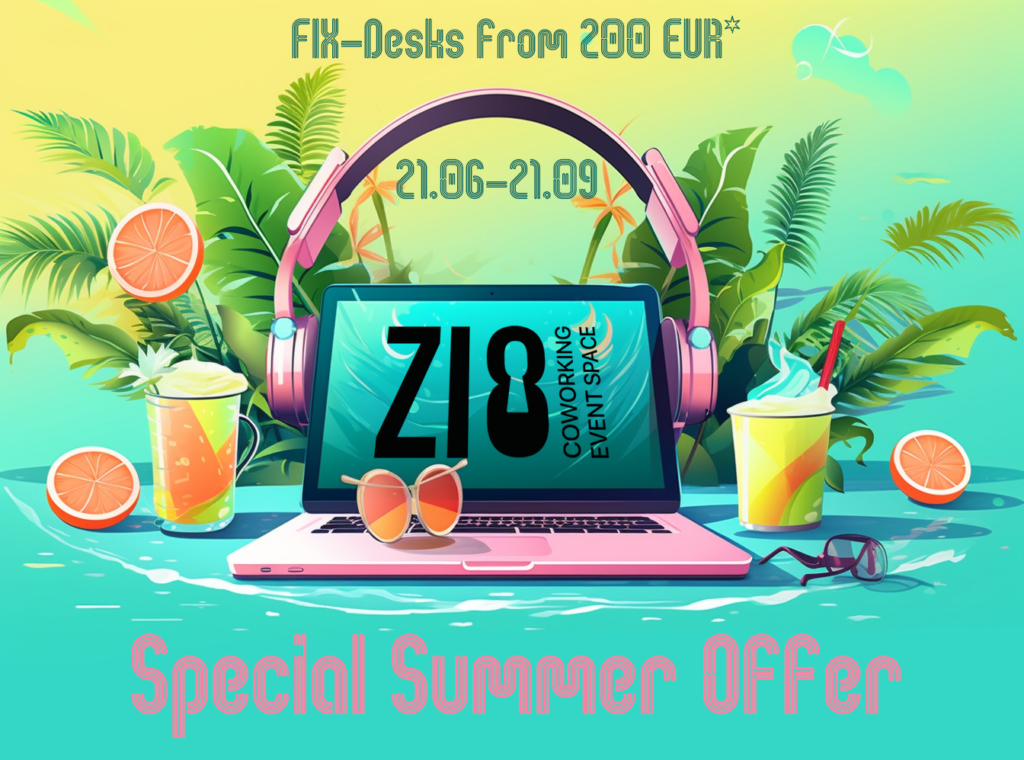 Secure a FIX desk with the full package that our coworking space offers: It includes a personal fixed desk, a personal key for 24/7 access (deposit required), a private locker, shared kitchen + free coffee (fair use), A4 color printing and scanning (fair use), a conference room (2 hours/week), a Dell HD screen (if available), Wi-Fi (300 Mbps), and a registered address with your logo on the façade. And all this for just 200 EUR/Month (excl. VAT, or 240 EUR incl. VAT) for a 3-month contract. This is the hottest deal in Vienna (well, we didn't really check but try to prove us wrong).
Three months seem like too much of a commitment for you? Then book a 1-month contract for just 230 EUR net (276 EUR including VAT) until 21.09.2023 for the same package as above.
Every Wednesday you can book a free day pass to check out our place. Important: Send us an email at least one day prior to coming to check the availability of free desks. For more info, please feel free to drop us an email at: info@zi8.at
One of the best deals this city can offer – we look forward to welcoming cool new coworkers. Join us – a desk in our beautiful coworking space is waiting for you!
The offer is valid on bookings made until 21.09.2023 and/or if there are still available desks.
*All prices excl. VAT